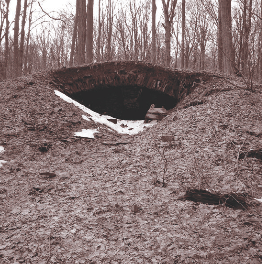 A relic of the 1825 farm colony owned by Thomas Suckley,
this root cellar still stands intact.
L
,
ocated
on Mount Rutsen Road in northern Rhinebeck, Ferncliff Forest Game Refuge and Forest Preserve is a 200 acre forest known as the second-best old growth forest in the Hudson Valley. The forest is available for hiking, camping, mountain biking, skiing, fishing, and picnics at no charge. Along the 4 miles of trials are the remains of hand-dug wells, cisterns, root cellars and old foundations.
For hundreds of years , oak trees covered these hills and Sepasco Indians lived in the area. In the 17th century, Europeans began settling in the Hudson Valley, but few took an interest in these high woods remote from both the Hudson River and closest road, originally called King's Highway and Post Road. About 1853 William Backhouse Astor Jr. whose mother was an Armstrong who had grown up at Rokeby, a few miles north of here, established Ferncliff through the purchase of several small farms. The holdings eventually grew, spread east of River Road and Mt. Rutsen Road and Mt. Rutsen Road to Old Post Road and Route 9.
In 1878, a 125 acre tract was described as "a farm colony with a cluster of cottages near Rhinebeck" It was owned by Thomas Suckley, who had inherited the land from his mother, Catherine. He offered it to the New York Conference for a retreat for retired methodist clergy. The Methodist Conference, with the continued support of Thomas Suckley, organized a farm, built cottages and constructed a stone chappel which was described as "plainly but richly furnished."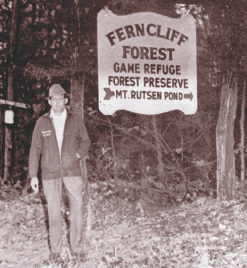 Homer K. Staley, founder of Ferncliff Forest, 1964
By 1900, the Mount Rutsen farm colony was not working well, which was attributed to "the isolated area and the fact that the ministers had to share one horse" to travel to the Village of Rhinebeck, The Methodist Conference sold off 106 acres for $5500.00 to John Astor IV, who already bought neighboring property.
The chapel served as a Sunday school for a few years beginning in 1902. The frame cottages were torn down and the chapel deteriorated and was eventually demolished.
The materials were used for other buildings in or near the Village of Rhinebeck, at Southland Farms, and to widen local roads.

After John Jacob Astor's death on the Titanic in 1912, Ferncliff Farm was inherited by his son, William Vincent Astor. He continued to acquire adjacent property, including land down to the Hudson River, totaling 2,800 acres in 1940.

In 1959, Vincent Astor died leaving Ferncliff Farm to Brooke Russell Astor, his second wife. Four years later, Homer K. Staley Sr., president of the Rhinebeck Rotary, asked Mrs. Astor to donate 190 some acres known as Mt. Rutsen to the Rotary for a forest preserve and game refuge. In 1964, Brooke Astor deeded the land to the Rotary, stipulating that it must remain "forever wild."
Homer K. Staley Sr. was named Ferncliff's first Forest Ranger and served as ranger for 30 years. At his request, the property was transferred to Ferncliff Forest, Inc., a not for profit organization. His son, Homer K. Staley Jr. is currently the Forest Ranger.
In 1994, the Homer K. Staley Sr. Nature Walk was established as a gift from the Rhinebeck Rotary.